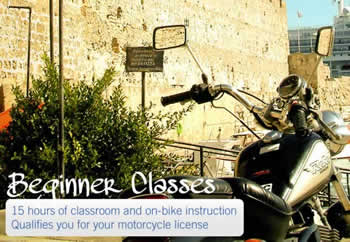 • The Basic Rider
This class combines 15 hours of classroom and on bike instruction. It provides fundamental knowledge and skill required for entry-level riders. Successful completion of the course qualifies you for your Colorado motorcycle license. Also a good course for riders that have been off their bike for an extended time and in need of a motorcycle license.
The classes are held at the IMI Motorsports Complex, in Dacono, Colorado, 30 minutes from Boulder and Longmont.
*Note: you must know how to ride a bicycle before taking this class.
IMPORTANT SIGN UP NOTE: Once you hit the red "Sign Up!" button below, you will be directed to MSF(Motorcycle Safety Foundation) website for class registration. After signing up on MSF's website, you will be sent a confirmation email. On the confirmation email from MSF, and under "Training provider links," click on the link that says "CLICK HERE TO FINISH REGISTRATION AND MAKE PAYMENT TO SECURE YOUR SPOT." After clicking the link, you will be redirected back to this site for payment to ensure your spot will be saved for the class you chose. If you are having trouble finding the link to pay, you can use the link HERE or the one above to submit payment and secure your spot. Once your spot is secure, you will receive another email for MSFs eCourse you must complete prior to class. In the email you will be given a username and password to use for the ecourse. Call or text 720-807-7767 if you have questions. 
*READ NOTE ABOVE BEFORE SIGNING UP
Cost: $295.00 

*READ NOTE ABOVE BEFORE SIGNING UP
What to bring:
You will be required to wear a helmet, over the ankle boots, long pants, long sleeves, gloves, and eye protection, this is not optional! Please bring your lunch and plenty to drink. We have a refrigerator and microwave for your use.
Bikes and helmets provided.
Most insurance companies will offer a discount for completing this course.
Time:
2020 MSF classes are 2-day classes
Classes are from 7:30 am-5:00 pm
*Classes start at 7:30 am, so please be on time.
Schedule:
Click HERE for upcoming dates and to register.
All class participants are required to complete a MSF Rider Waiver, and a COVID 19 Release Waiver before participating in any classes. Please click on the links below to open, complete and print:
— MSF + COVID Liability Waiver
All classes are held at the IMI Motorsports Complex, in Dacono, Colorado.