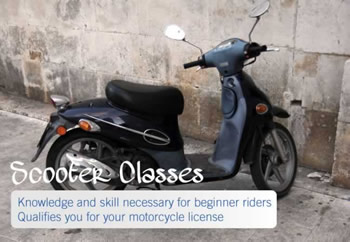 • The Basic Scooter Rider (held with beginner course)
The basic scooter course is 15 hours of classroom and on scooter instruction. It provides knowledge and skill required for beginner riders. Successful completion qualifies you for a motorcycle license.
Cost: $295.00


What to bring:
You will be required to wear a helmet, over the ankle boots, long pants, long sleeves, gloves, and eye protection, this is not optional! Please bring your lunch and plenty to drink. We have a refrigerator and microwave for your use.
This class is held with the Beginner MSF Motorcycle class. Please call 303-666-6061 to reserve a Scooter.
Time:
2020 MSF classes are 2-day classes
Classes are from 7:30 am-5:00 pm
*Classes start at 7:30 am, so please be on time.
Schedule:
Click HERE for upcoming dates and to register.
All class participants are required to complete a MSF Rider Waiver, and a COVID 19 Release Waiver before participating in any classes. Please click on the links below to open, complete and print:
— MSF COVID Liability Waiver
— MSF Rider Waiver
All classes are held at the IMI Motorsports Complex, in Dacono, Colorado, 30 minutes from Boulder and Longmont.