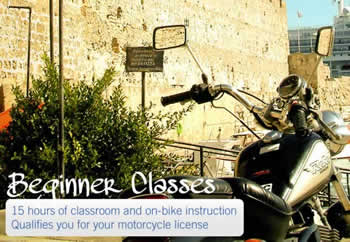 • The Basic Rider*
This class combines 15 hours of classroom and on bike instruction. It provides fundamental knowledge and skill required for entry-level riders. Successful completion of the course qualifies you for your Colorado motorcycle license. Also a good course for riders that have been off their bike for an extended time and in need of a motorcycle license.
The classes are held at the IMI Motorsports Complex, in Dacono, Colorado, 30 minutes from Boulder and Longmont.
*Note: you must know how to ride a bicycle before taking this class.

Cost: $275.00
What to bring:
You will be required to wear a helmet, over the ankle boots, long pants, long sleeves, gloves, and eye protection, this is not optional! Please bring your lunch and plenty to drink. We have a refrigerator and microwave for your use.
Bikes and helmets provided.
Most insurance companies will offer a discount for completing this course.
Time:
2020 MSF classes are 2-day classes
Classes are from 7:30 am-5:00 pm
*Classes start at 7:30 am, so please be on time.
Schedule:
COVID-19 Update:
All classes are on hold till we get a green light from the state. I will reach out to students currently enrolled in classes when we know more and will be ramping up classes at that time. Stay healthy, everyone. — Ricky Orlando
Weekend:
Weekday: