"Thank you from the bottom of my heart. Thanks for helping me regain some of the beauty of motorcycle physics in motion while at the same time accommodating some of the new challenges I developed after my car accident. I had a blast in your class and will be back to see you soon. Thank you." — Moira Burns
---
"Hi this is Joseph Anthony and I took your class on 3/25 2018. I just wanted to pass along an email to you, it was fantastic wonderful class. I received a lot of knowledge and felt really comfortable on the bike by the end of the class. Amanda did a fantastic job even when somebody tried to be a pain in the butt, she never lost her cool, thank you so much. I feel great on a bike now and I will highly recommend you guys to all my friends. You guys have a wonderful day and thank you again Amanda and great job."
---
"Ricky, thanks so much for an amazingly thorough lesson for a beginning rider.   You were professional, courteous and allowed me to be to become quickly acclimated to riding in a very short amount of time.  I was shocked at how comfortable I felt on the bike by the end of the lesson.  I cannot recommend you highly enough to others looking for a professional educator that is top in his field." — Jill
---
"Thanks for your wonderful class and for your patience and guidance. Respectfully," — Mike Pratt
---
"Ricky, I wanted to send you a quick note to thank you for your time yesterday. Cash enjoyed it and he is really excited to continue practicing what he learned from you. He was working on his bike last night and the other two boys are excited as well! Looks like we will be getting some more bikes, gear and additional lessons I am sure of it!
"Thank you for your patience with Cash he definitely did well with your teaching style and we loved how thorough you were with him.
"My guess is that we will be spending more time out at the track practicing, practicing, practicing.
"Have a great rest of your week!" — Malyka Korgan
---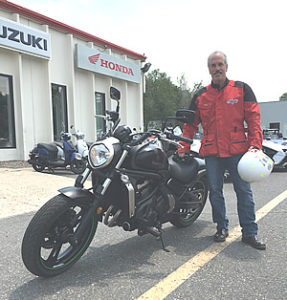 "Hey Ricky,
"Thank you again for providing your class and introducing Luke and I to the awesomeness of motorcycle riding! We are having a great time – especially me, who went out and bought a brand new 2015 Vulcan S. I've put 200 miles on it since Tuesday and I can tell I'm getting better each ride. (I still have a healthy fear of crashing though).
"I learned many things in your class. The one thing that is most helpful…of course…
TURN YOUR HEAD!!! Wow, what a difference that makes at higher speeds than we achieved in class. I'm thankful every time I turn my head!" — Mark Walker
---
"Hi Ricky,
"Really enjoyed the class yesterday and am feeling more confident in cornering and braking in Real World Riding.  Also, the topics of traffic interaction and making yourself more visible on the streets of Colorado ands a layer of safety and inner comfort." — Ross Borgida
---
"Hi Ricky,
"Thank you, Thank you, Thank you, for your great training course!! Best $275 I ever spent. I am still working on Press+ front brakes to become a habit. You were correct that a 750 Shadow is a great size bike for me, I love it and the wife does as well. If there is anything I can do to promote you and your business let me know.  Thanks again and be safe." –Lee
---
"Ricky, Thank you for providing such a great learning opportunity for our family. The girls and I had a great time, learned a lot and created some wonderful memories." –Shalia, Casey, Haley McPherson
---
"Hi Ricky,
"Thanks again for a great experience in the BRC class last weekend. Mac and I had a fantastic time and learned a ton of valuable information/skills.
"We picked up a 1999 Suzuki GSF 1200S (aka "Bandit"). It's pretty much the last thing I imagined us getting as a starter bike, since it's fairly heavy and has a large engine. But during the test ride it was clear that the power was very smooth and easy to manage. Plus, it was a really great deal financially. Both of us have been riding it around and it's going extremely well.
"Just wanted to give you a quick update.
"Take care," –Tim Zee
---